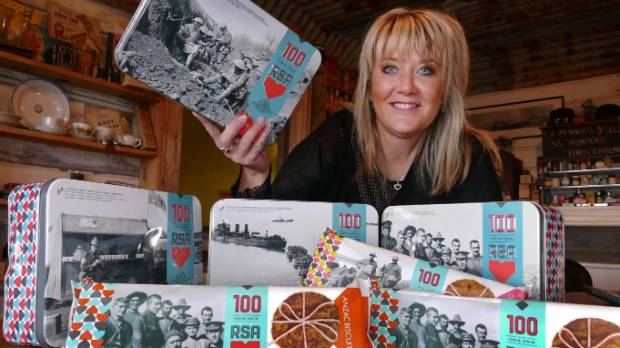 – The Southland Times 
A family-run Southland bakery which usually flies under the radar landed a special contract.
Kaye's Bakery of Invercargill secured the contract starting 2015 to produce Anzac biscuits for limited edition World War I commemorative Anzac biscuit tins.
Kaye's Bakery General Manager Luella Penniall said the tins were the result of a partnership between the Returned Services Association and Blenheim company Action Food Marketing.
The tins were available in seven limited edition designs, featuring embossed photographic scenes of New Zealanders during World War I.
It was great a Southland business was involved in the project, Penniall said.
"When they first arrived we were running around showing each other [the tins], we were just excited."
Action Food Marketing had told her the tin designs and biscuits had been a hit, she said.
"They're finding it unusual people have taken the time to ring them up and say they had done a good product."
Kaye's Bakery owner Evan Penniall said the commemorative project had created significant business for their company.
It was the biggest one-off contract the business had, he said.  "We've had to hire a few more staff."
Initially the company became involved in the project through the RSA but later passed it on because of the marketing requirements.
However the company became involved again when contracted by Action Food Marketing to do the baking, he said.
Luella Penniall said the project had been a challenge for the company because of the technical requirements to pack the products,
The company had produced millions of biscuits to fill the order of 54,000 tins.
There was just so much to think about, she said.
"We had to talk to Harraways Oats in Dunedin to give them the heads up that we would need massive amounts of rolled oats."
The family credits their hands on experience for their success.
"I was working on the floor when I was 11-years-old, so we all know how to make things run efficiently. We're not just pen pushers."
 – The Southland Times 
---